What's new for 2013-2014
What's new for the 2013-2014 season

Hopefully you notice our crowning achievement this year, "Our 2nd Mega-tree" on the eastern side of our property. This mega-tree uses a different LED technology called low voltage DC RGB 'pixels'. RGB pixels are 'all the fad' in the community of us Christmas light fanatics. RGB pixels are so new that this technology is changing and developing rapidly as you read this. By the way, RGB means red green blue. Each pixel actually has 3 separate and different colored led's inside of every pixel. All of the 16 MILLION possible colors on each pixel are derived from percentages of how intense the red green or blue LEDs are electrically energized on each pixel.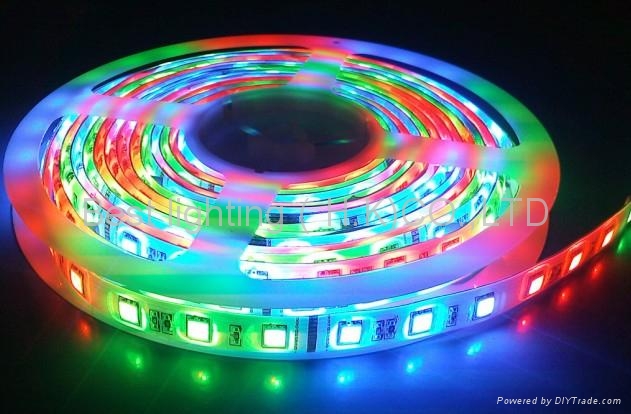 These RGB pixels require an additional computer network and a different computer interface to operate them. As you watch our light show, know that two different computer networks are used concurrently to operate all of our lights. As you can see from the photo on your right, each and every pixel is addressable both on the intensity of the light (luminosity) as well as color choice. Depending on how close these pixels can be physically placed together determines the resolution and quality of the display. Our RGB pixel mega-tree uses 36 strands of 75 pixels per strand. Each pixel has three channels (thus the red-green-blue) adding 8100 additional channels to our current 500 LOR channels. Only 8 years ago we started this hobby with 6 channels and now we have over 8600 channels. It is my long term goal to replace our 'perimeter fence' with RGB pixels adding THOUSANDS of additional RGB channels.

RGB pixels represent the ultimate level of control in computerized Christmas lighting displays. RGB pixels allow the lighting display designer to have the ability to control each individual light element separately, with both brightness and color. We are no longer limited to controlling entire strings of lights, instead we now have the ability and flexibility to control each and every pixel on each and every pixel string to the specific color and intensity we choose. This allows literally unlimited creativity in display design. Photos, text, intricate dynamic patterns and yes 'mini movies' are all possible with RGB matrixes. Look for more RGB pixels each & every year as we change and update our Christmas light show.

That's not the only thing that's new this year. We have added more conventional LED lights!! I love LED icicles. We added a lot more LED icicles above the garage, above the porch and to our stone wall in front of our porch. They add a huge amount of color and illumination to our display.

In addition, we added an additional 'layer' of lights on our conventional Mega-tree. Our outer layer of our mega-tree has 8 separate colors, 16 channels/color and 300 LEDs/strand making 38,400 LEDs on our outer layer. Our inner layer has 4 colors, 16 channels /color and 210 LEDs/strand adding 13440 additional LEDs to our mega-tree. The total LED count on our mega-tree is 51840 conventional LEDS. Having two layers on our mega-tree gives an 3D effect to our mega-tree. I believe that our mega-tree has the most LED's of any American residential Christmas light show. Any challengers?